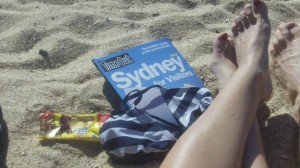 What a weekend! Hurly Burly's burlesque darling Polly Rae performs at the Factory and the Sydney Festival explodes across Sydney with free events such as Norman Jay playin tunes from a double decker bus in Hyde Park (from 3pm), Trocadero Dance Palace, musically directed by Dan Barnett and David Theak with dance classes at 7pm, Manu Chau in the domain (!) at 930pm and Monsieur Camembert and friends playing in the elegant NSW Art Gallery until 11pm. 
Sunday there are more events. Or you may want to do like us last week and head to Fairy beach for some sun, salt and sand.
And to wrap the weekend is Performance Carnivale at the magnificent Victoria Room in Darlinghurst where you can settle comfortably into the lush British-Raj décor to  sip sauvignon blanc, nibble calamari, shmooze and enjoy performances by international musicians and entertainers including J.Arlin (Scandinavian Original Folk Guitarist), Sie Shielding (Aerial Trapeze), Matty Shields (Acrobatic Pole), David Dodgen (mentalist/magician) and a globe trotting cabaret duo you may know,  Jazmin Baret & Monsieur P. 
See you there!

For the complete Sydney Festival program visit www.sydneyfestival.org.au